Jellycat HK Sale - BabyPark HK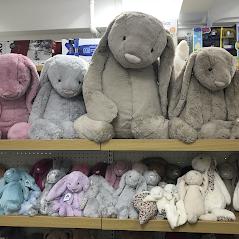 Jellycat HK Sale
BabyPark carries extensive range of London-based soft toy products.  With around 300 different SKUs readily available in store, the adorable and cuddly plush toy products are categorised by collections, animals, colours and sizes.  
Collections:
Animals:
Each bunny has her own unique characteristics which you can identify. 
Bashful bunny is a classic collection in the family with distinguished colour throughout majority of the body. 
Blossom bunnies are the more colourful animals with their patterned inner ears.  
Toothy animals demonstrate natural born silliness with their oversized mouth and un-proportionally large teeth.  
Soother serves more than the general purpose of a plush toy which your little one can sleep onto.
Chime adds sounds to the cute animals.
Books can enhance learning with sounds by pressing.
Animals are Monkey, bunny, lamb, pig, lion, penguin, dinosaur, owl, bear, dog & more.  
FAQ
What are the available sizes?  Size Chart as follows: 
How to measure its size?
Usually you measure from the top to the bottom of the feet.  If you are not sure this is the size you like, you can visit our shop in TST or request a product picture from our shop.  We are happy to assist.
What age is it suitable for?
The very diversified range is usually suitable from birth except when there is an age-recommendation hang tag.  
Where to buy?
We are located at Tsim Sha Tsui, Hong Kong.
When can you ship?
All products are usually shipped out on the same day as indicated in the little box besides the product name.  With some very special cases, it will take longer.  Please ask if you have any question.
How much is shipping?
We offer many different shipping options in Hong Kong and overseas.  Please visit our shipping page.
All Jellycat HK sold by BabyPark HK are 100% authentic sourced from authorized distributors.
Jellycat HK Sale - BabyPark HK